Tetracyclines Rapid Test Kit for Honey | SmarKIT | Nankai Biotech
Tetracyclines Rapid Test Kit for Honey | SmarKIT | Nankai Biotech
Manufacturer: Nankai Biotech
Origin: China
Packaging Details: TCs-D206H1 - detection limit 10ppb
TCs-D206H2 - detection limit 50ppb
TCs-D206H3 - detection limit 100ppb
Product Description
Hangzhou Nankai Biotech Tetracyclines Residue Rapid test is a rapid, one step test for the qualitative (or quantitative) detection of Tetracyclines Residue in Honey.
SmarKIT Advantages:
1. 3-5 min reading results
2. Detection limits respond to EU and US FDA norms
3. Single test for every target sample
4. Neither professionals nor equipment required
5. Eyes interpretation or quantitative measurement,suitable for lab and field use
6. Room temperature storage
7. Non-toxic and harmless
1. INTENDED USE
The N.K.Biotech Tetracyclines Residue Rapid Test is a rapid test to qualitatively (or quantitatively) detect Tetracyclines in Honey at the sensitivity of 10 ppb. The total assay time takes approx. 8 min.
2. TEST PROCEDURE
1. Remove Rapid Test from sealed pouch.
2. Suck at least 3 drops of prepared sample, hold the dropper vertically and transfer 3 full drops(around 100μL) of solution to the specimen well (S) of the test device (See the illustration below), and then start the timer.
3. Wait for red bands to appear. The result should be read in approximately 3-5 minutes. Do not interpret results after 5 minutes.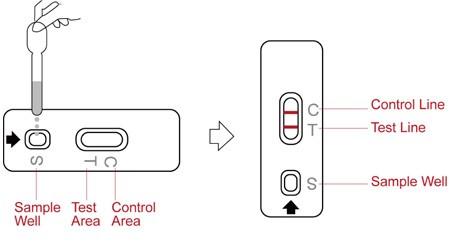 3. READING RESULTS

4. STORAGE AND STABILITY
Store at room temperature. The shelf life is 12 months.
Detailed Product Description
| | |
| --- | --- |
| Model Number | TCs-D206H1, TCs-D206H2 và TCs-D206H1 |
| Packaging Details | 40 tests/box |
| Target Sample | Honey |
| Sensitivity | 10pbb / 5ppb / 100ppb |
| Read Result | 8 minutes |
| Shelf Life | 12 months |
All information about the request for quotation of products, please contact us again!
Products in this Category