Listeria are gram-positive, motile (at mesophilic condition), psychrotrophic bacteria with six known species - L.monocytogenes, L. innocua, L.seeligeri, L.welshimeri, L.ivanovii, and L.grayi. They are associated with clinical importance due to their virulence activity. But among the six species of Listeria, the most prevalent is L.monocytogenes causing listeriosis including sepsis, meningitis, encephalitis, corneal ulcer, pneumonia, cervical infection, and abortion, where elderly, immunocompromised, pregnant women, and infants are the most susceptible. Due to the increasing Listeria outbreak, certain high-risk foods became necessary to test for Listeria contamination. These high-risk foods are as follows: ready-to-eat seafoods, pre-packed fruits and vegetables, drinks made from fresh fruits, deli meats without further cooking process, unpasteurized milk, soft-serve ice cream, soft cheeses, salad dressings, and raw vegetable garnishes.

Therefore, the Listeria testing process is recommended, and the Compact Dry Listeria bring convenience to the user because of the advantage of no need to prepare environmental chemicals, tools, and consumables. Complex wear. All technology used for this Compact Dry Listeria is pre-poured medium. And the user only needs to extract the sample, put the sample into a dish and incubate. AZ LAB Co., Ltd. is currently the official distributor of Nissui Compact Dry in Vietnam.
Result Interpretation
Blue or light blue colonies of about 1-2mm in diameter.
Procedure
- Aseptically weigh 25.0g or pippette 25.0ml sample to appropriate sterile container (i.e stomacher bag, dilution bottle, whirl park bag).
- Add 225.0ml diluent and homogenize. Suggested diluents for Salmonella parameter are Buffer Peptone Water and other appropriate diluents depending on BAM.
- Pre-enrich at 200C for 1 hour.
- Open the cap. Dispense 1.0ml of diluted sample in the middle of the Compact Dry Listeria plate. Recap the plate.
- Invert and incubate the plates at specific incubation condition. Manufacturer's recommendation: 35 ± 10C for 24 ± 2 hours.
- Read results.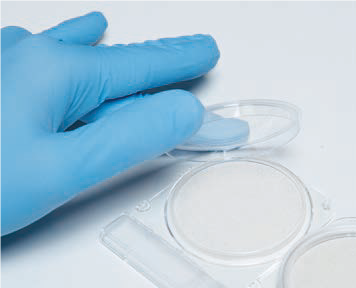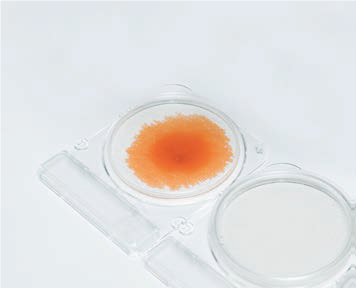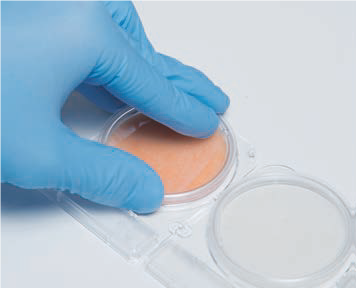 AZ LAB Co.,LTD is currently the official distributor of Nissui Compact Dry products in Vietnam with all the following criteria: Total Count (TC), E.coli and Colifrom (EC), Enterobacteriae (ETB), Vibrio parahaemolyticus (VP), Bacillus cereus (X-BC), Yeast & Mold (YM), Staphylococcus aureus (XSA), Enterococcus (ETC), Pseudomonas aeruginosa (PA), Salmonella (SL), and Listeria. ​
http://azlab.vn/en/shops/compact-dry/compact-dry-nissui-distributor-az-lab-in-vietnam.html
Products in this Category